Hunter 52" Apex Ceiling Fan with LED Light Remote Control Modern Transitional
$11988

$119.88

Save $50.11
---
---
Hunter Apex LED 52" Reversible Blade Ceiling Fan
Features:
Two 9 Watt LED Bulbs Included
Fan/Light Handheld Remote Control Included
Limited Lifetime Motor Warranty
Product details have been supplied by the manufacturer and are hosted by a third party.
Apex LED Fan
The Hunter 52" Apex LED ceiling fan features either a Brushed Nickel (Silver) or Matte Silver (Gray) finish with a Cased White glass which has a modern look sure to impress. The strong motor and 52" blade span produce a large amount of airflow which is sure to keep you cool in the summer and circulate the warm heat down in the winter. Running a ceiling fan in the proper direction all year round can help save energy and make you feel more comfortable. In the summertime, running your ceiling fan counter-clockwise will provide a cooling breeze while circulating the air. During the winter, a clockwise rotation will move the cooler air off the floor and push the warm air down the walls without the strong draft. The fan uses 2 x LED bulbs for energy efficient lighting.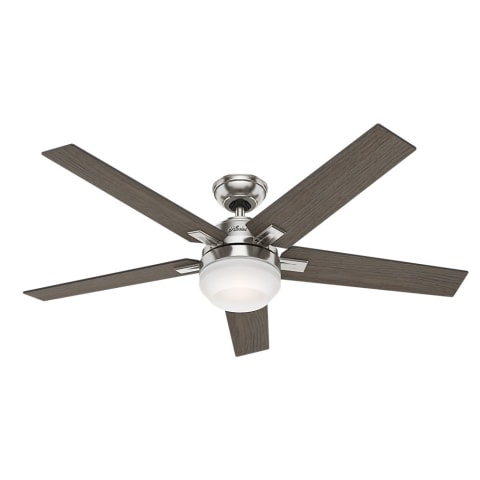 Hunter Fan Company
Hunter Ceiling Fans have been designing, engineering, and producing energy efficient ways to move air in homes for over 125 years. In the summer we help cool. In the winter we help move heat down from around the ceiling to the living area. All year round our fans allow you to change your thermostat and save money by not having to run your air conditioner or furnace as much. Our heritage of 19th century craftsmanship, combined with 21st century design and innovation, ensures that every product we make is as tough on the inside as it is beautiful on the outside. Backed by our tradition of excellence, you know you can count on everything Hunter makes for unmatched quality, style and performance.
5 Reversible blades in Light Grey Oak & Grey Walnut (59156 Silver)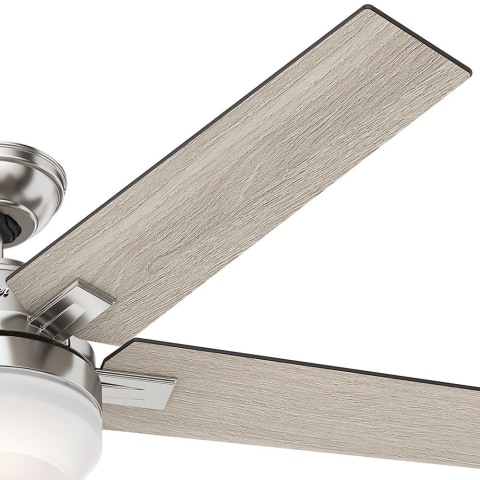 5 Reversible blades in Bleached Grey Pine & Warm Grey Oak (59595 Gray)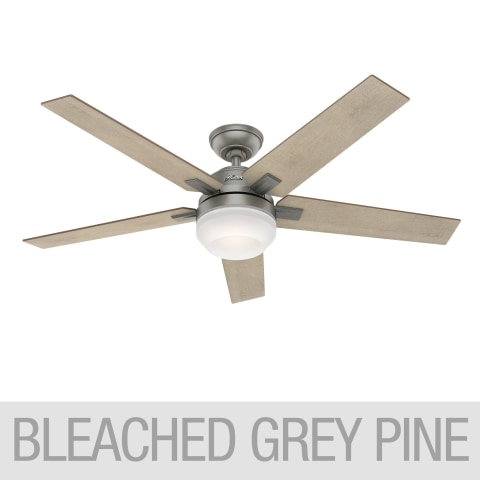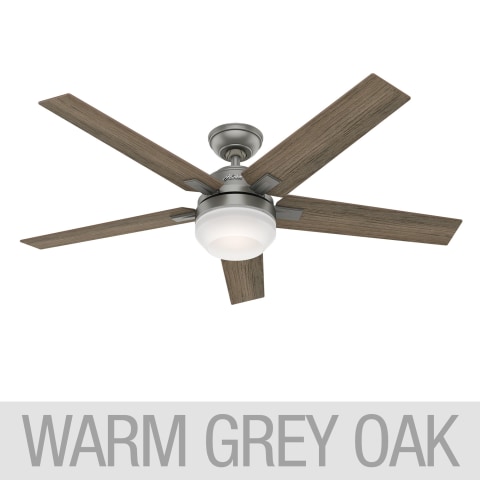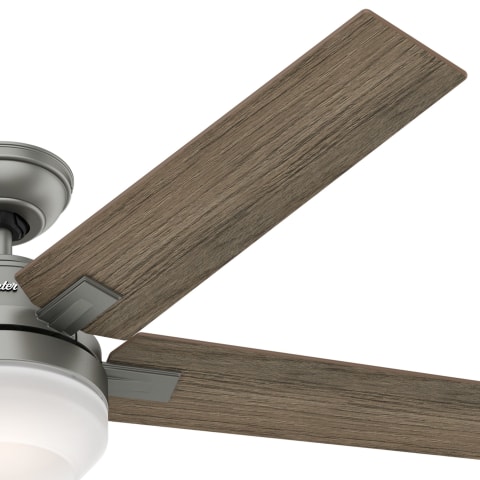 Cleaning Instructions:
When you go to clean your ceiling fan, lay an old sheet, towel or drop cloth down on the bed, furniture, whatever is directly under your fan that you don't want to get residual dust on while you're cleaning your fan.
Stand on a ladder so your head is above the blades, then slip the pillowcase over each blade and pull it back to trap the dust. Repeat this for all of your ceiling fan's blades. Do not put a lot of pressure on the blades when you're doing this: Too much pressure could cause the blades to break or go out of balance.
Use a cotton cloth for any small missed spots or to dust the base of the fan and the light.
---
We Also Recommend