EcoFlow RIVER Pro Portable Power Station, 720Wh Power Multiple Devices, Recharge 0-80% Within 1 Hour
EcoFlow RIVER Pro Portable Power Station, 720Wh Power Multiple Devices, Recharge 0-80% Within 1 Hour
Features:
Three 600W Outlets and 720Wh Capacity
Recharge from 0% to 80% in One Hour
Compatible with 80% of Home Appliances
Control with Ecoflow App
Product details have been supplied by the manufacturer and are hosted by a third party.
The EcoFlow RIVER Pro is a compact, portable power station that is built for taking your adventure into the great outdoors. Whether you are camping, over-landing, tailgating, or boating, the RIVER Pro provides reliable power that lets you take your adventure anywhere.
X-Boost Smart Algorithm
The EcoFlow X-Boost technology gives you the ability to use the 600W inverter to power tools up to 1200W. This unique technology is perfect for outdoor adventures when you need to power your favorite devices on the go.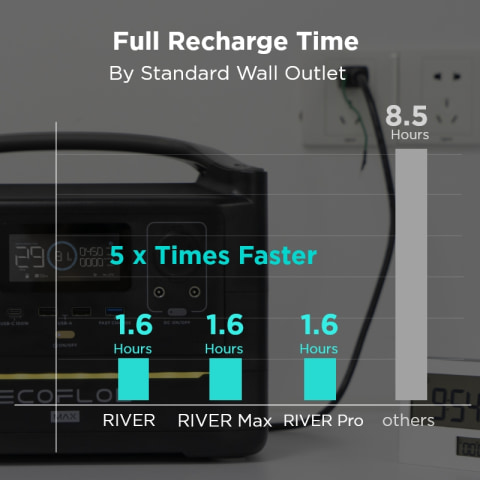 Faster Recharging Speed
EcoFlow's X-Stream fast charge technology eliminates the need for carrying around bulky power adapters. The RIVER Pro supports AC charge input up to 660W and can charge from 0-80% within 1 hour, achieving a full charge in 1.6 hours.
Power that Grows with You
From a solo road trip to group camping, the RIVER Pro has expandable power that unleashes your weekend adventures. If you are planning on taking a long journey or have more power-heavy applications in mind, add the RIVER Pro Extra Battery to double the device capacity from 720Wh to 1440Wh.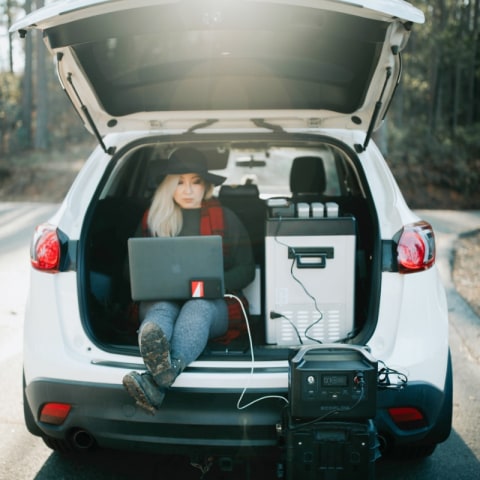 3 AC Outlets
Step into the wild with complete peace of mind with the RIVER Pro. Whenever you are having a backyard adventure with the family or powering a completely off-grid adventure, the RIVER Pro powers essential appliances and devices.
Specifications
Battery Capacity   720 Wh
Brand   Ecoflow
Dimensions - Depth   9.96 in.
Dimensions - Width   7.3 in.
Generator Type   Portable
Noise Level   0 dB
Number of AC Outlets   3
Number of DC Outlets   1
Output Power   1,200 W
Peak Wattage   1,200 W
Power Source   Battery
---
We Also Recommend