FoodSaver Vacuum Packaging Rolls, 4 pk.
FoodSaver Vacuum Packaging Rolls, 4 pk.
Don't let leftovers go to waste: protect them with this combo pack of vacuum storage rolls. Designed to help preserve food in your freezer, refrigerator or pantry, these 4 rolls of packaging can easily be customized to suit your needs. You can prepare and then store extra portions for leftovers later in the week or even later in the month to save time and energy in the kitchen. Or, buy in bulk and keep all the family favorites on hand. Whether you have a large family or a small one, these food-storage rolls will help eliminate kitchen waste.

Product Features:
 
Prevents freezer burn so food lasts longer
Locks out air and moisture to seal in freshness
Unique design maximizes air removal
Preserves food's flavor
Combo pack includes three 18'L x 11"W rolls and one 22'L x 8"W roll
Warranty: 1 year limited

(Model FSFSBF0746-P76)
Overview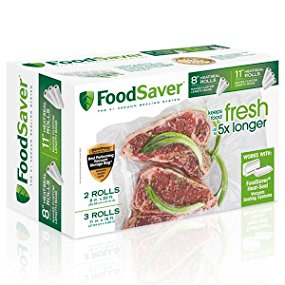 FoodSaver 8" and 11" Vacuum Seal Rolls, Multi-Pack
Preserve freshness, flavor, and nutrients

FoodSaver vacuum seal bags, vacuum seal rolls, and containers are designed to work together with FoodSaver vacuum sealers to keep food fresh, eliminate waste, and save money.

FoodSaver's pack of (2) 8-inch by 20-foot rolls and (3) 11-inch by 16-foot rolls of heat-seal bag material makes it possible to create bags that are as long as you need. The convenient custom-length storage bags mean no more wasted material or precarious "doesn't quite fit" scenarios.
Key Features
Create custom-length, premium-quality bags perfectly sized for your food
Durable multi-layer construction resists punctures and tearing
Ideal for sous vide cooking
Includes (2) 8-inch by 20-foot heat-seal rolls and (3) 11-inch by 16-foot heat-seal rolls
Why Choose FoodSaver Bags for Sous Vide Cooking?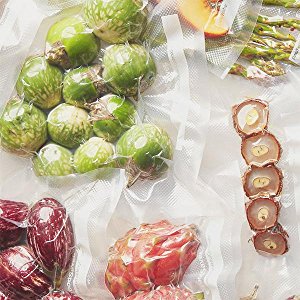 Effectively Prepares Food

Sous vide allows you to precisely control your cooking temperature to achieve perfect results. You can cook sous vide in FoodSaver bags by placing them in water at any temperature up to 195°F/90°C.
Keeps Ingredients Secure

By using your FoodSaver vacuum sealing system, water can't permeate through the bag and mess with your ingredients, so your food stays secure during its water bath. Our bags also resist punctures and tearing.
Prevents Contents From Floating

Using FoodSaver bags and vacuum sealers means the pouches are completely airtight, which delivers consistent cooking results and prevents floating during the sous vide water bath.
Advantages of Using FoodSaver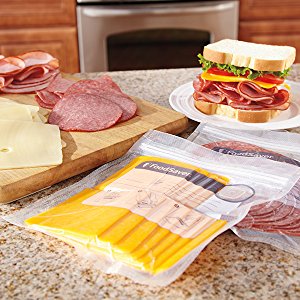 Premium-Quality Bags & Rolls

FoodSaver bags have specially designed channels that remove oxygen, creating an airtight barrier that locks in flavor and prevents spoilage and freezer burn.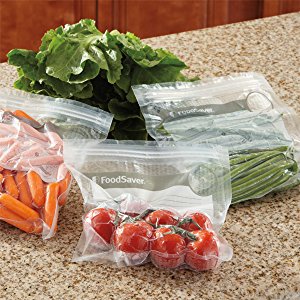 Seals Freshness In

The vacuum sealing system automatically removes all the air from the bag and then uses heat to create an airtight seal, which locks out moisture and air to protect food and maintain freshness.
Easy to Use

Simply add food to the bag, insert the open end in a FoodSaver heat-seal vacuum sealing system, and the machine takes care of the rest: removing all the air before creating an airtight seal.
| | |
| --- | --- |
| Type | Vacuum Storage Rolls |
| Color | Clear |
| Size(s) | 18'L x 11"W; 22'L x 8"W |
| Includes | Three 18'L x 11"W Rolls, One 22'L x 8"W Roll |
| Dimensions | 13"D x 6"W x 8"H |
| Weight | 6 lbs. |
---
We Also Recommend