Massimo MB200 Mini Bike, 196CC Engine Motorcycle Automatic Transmission w/ Dry Clutch Chain

MB200 Red Mini Bike 196CC Engine Automatic Transmission with Dry Clutch Chain Drive
Features:
196cc Four Stroke Single Cylinder Engine
Automatic Transmission with Dry Clutch Chain Drive
Faux Gas Tank for Closed Storage
Supports up to 200 Lbs
Carbureted and Air Cooled
Product Details
Product details have been supplied by the Manufacturer, and are hosted by a third party
MB 200
Massimo MB 200 Minibike
The Massimo MB200 Mini Bike is powerful, reliable and easy to operate. With larger rugged tires and high strength steel frame, this machine is perfect for use in the neighborhood or on the trails. Includes an automatic transmission with dry clutch chain drive and is also carbureted and air cooled. Built with classic vintage styling and modern upgrades, this mini bike delivers on style and reliability.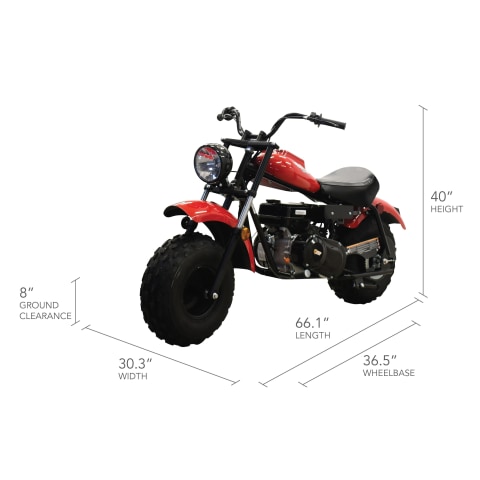 DIMENSIONS
Vehicle Size (L X W X H): 66.1 IN X 30.3 IN X 40 IN
Wheelbase: 36.5 IN
Ground Clearance: 8 IN
Fuel Capacity: .95 GALLONS
Seat Height: 24 IN
Dry Weight: 152 LBS
ENGINE
Four Stroke Single Cylinder
Displacement: 196CC
Horsepower: 6.5 HP
Top Speed: 24 MPH
Cooling: Air Cooled
Transmission/Final Drive: Automatic, Chain Drive
Drive System: Chain Driven
Fuel System: Carbureted
Ignition: Recoil Pull Start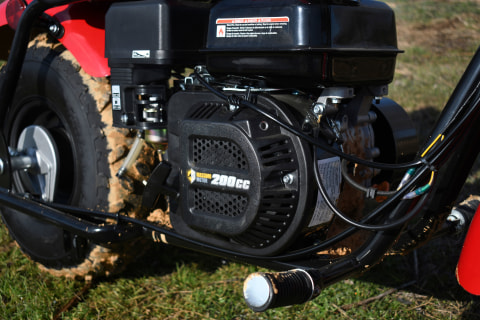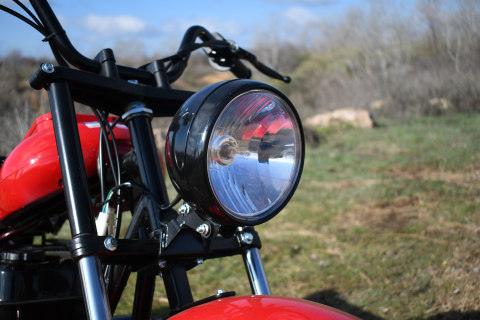 CHASSIS
Front Suspension: Hydraulic Telescopic
Front Tires: AT 19 X 7-8
Rear Tires: AT 19 X 7-8
Rear Brake: Drum Brake
ADDITIONAL FEATURES
Assembled in Dallas, Texas
Includes front head light, side and rear reflectors, oversized seating, faux gas tank for storage
Light assembly required
---
Specifications
Brand                                    :                     Massimo
Color                                     :                     Red
Dimensions - Height              :                     40 in.
Dimensions - Length             :                     66.14 in.
Dimensions - Width               :                     30.3 in.
Engine Displacement            :                     196 Cubic Centimeter
Fuel Capacity                         :                     0.95 Gallon
Horsepower                            :                     6.5 Horsepower
Maximum Speed                    :                     24 MPH
Model                                     :                     MB200
Seat Height                            :                     24.6 in.
Seating Capacity                    :                     1 Person
Weight                                    :                     155.3 lb.
Wheelbase                              :                     45.28 in.
---
We Also Recommend